The Unique Blog
How To Keep Your Commercial Property Safe This Winter
The importance of partnering with a snow and ice management company.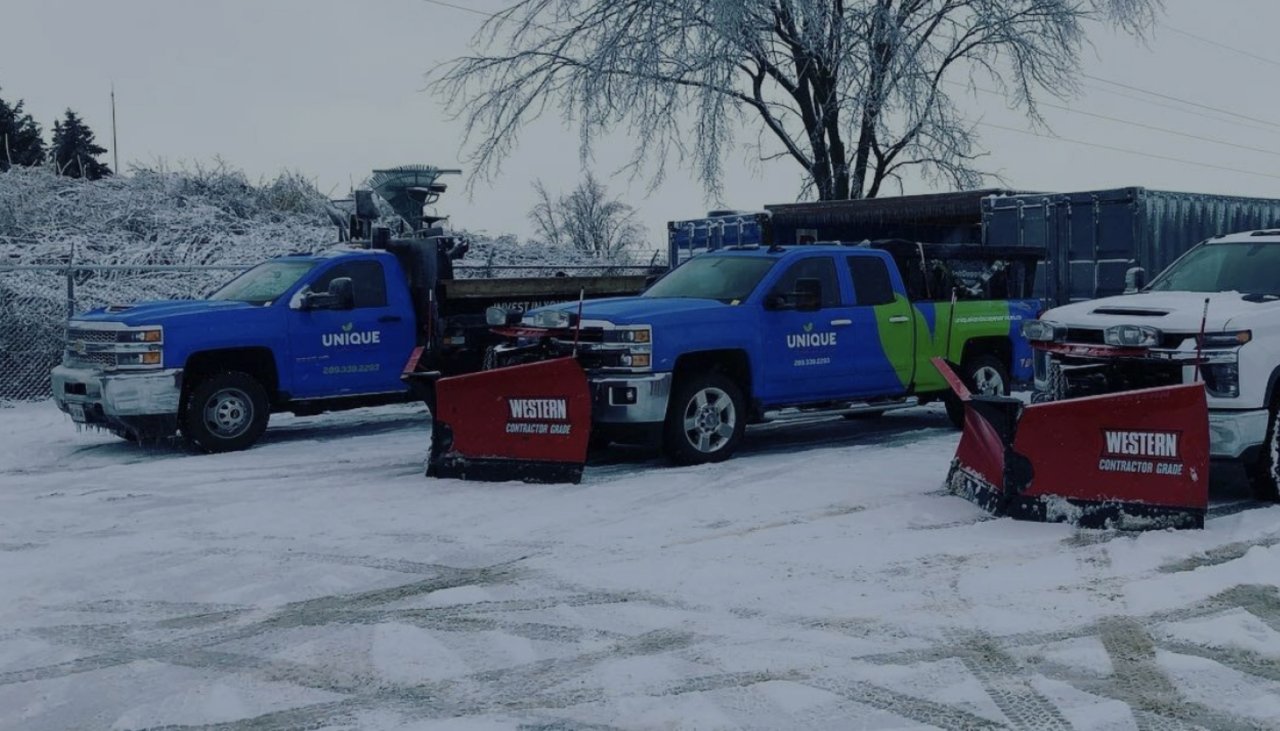 Snow days are challenging for commercial property managers and owners. You are responsible to keep your property clear of any hazards like slippery surfaces or obstructed exits. You're also in charge of ensuring residents, customers, clients and employees can safely use the property under your care.
To do it right, and do it efficiently, there are a number of factors to consider. 
At Unique Landscape Services, we have years of experience helping commercial property managers and owners keep their properties safe and clear during our long, harsh winters.
Here are a few things to consider to properly manage snow and ice on your property this season.
1. Before the storm hits…
It's important to know where your priority zones are on your property and your piling zones for snow removal. This ensures you start shoveling the priority areas right away: like emergency exits, pathways and entrances to your property.
But when the snow is cleared, will you be left with piles of snow and nowhere to put it? You should also plan out your piling zones. These are spaces where excess snow (from clearing your priority areas) can be placed. Large areas of your property with little to no foot traffic can be good piling zones, like far corners of a parking lot or behind your building. 
When creating piling zones you should consider if it's a safe spot for the snow to go because it might not melt right away… you could end up adding more snow to this pile throughout the season! 
The first thing we do with our clients is request a walkthrough of their property to discuss their needs for the season and identify the property's priority and piling zones. After the walkthrough we put together a site map that highlights the information, so we know exactly where to start when clearing a property after a snow storm.
2. Monitoring the storm… 
During the winter months, it's particularly important for property managers and commercial property owners to keep a close eye on the weather. Of course, this may be an unrealistic expectation when you add it to all the tasks you already have on your plate.
Most professional snow and ice management companies monitor the weather using professional services that are more detailed than your common free weather sites.
We monitor the forecast using InstantWeather, an app that monitors severe weather and has the fastest severe weather alerting system available. When a storm is approaching we instantly receive a text message alert so we can get ready to head out.
We also monitor with in-person site checks and remotely monitor via camera if given access, so your property is taken care of when it needs to be. 
Our monitoring process gives us the most accurate and detailed weather data for approaching winter storms so we're ready to head out once 2 inches of snow has fallen.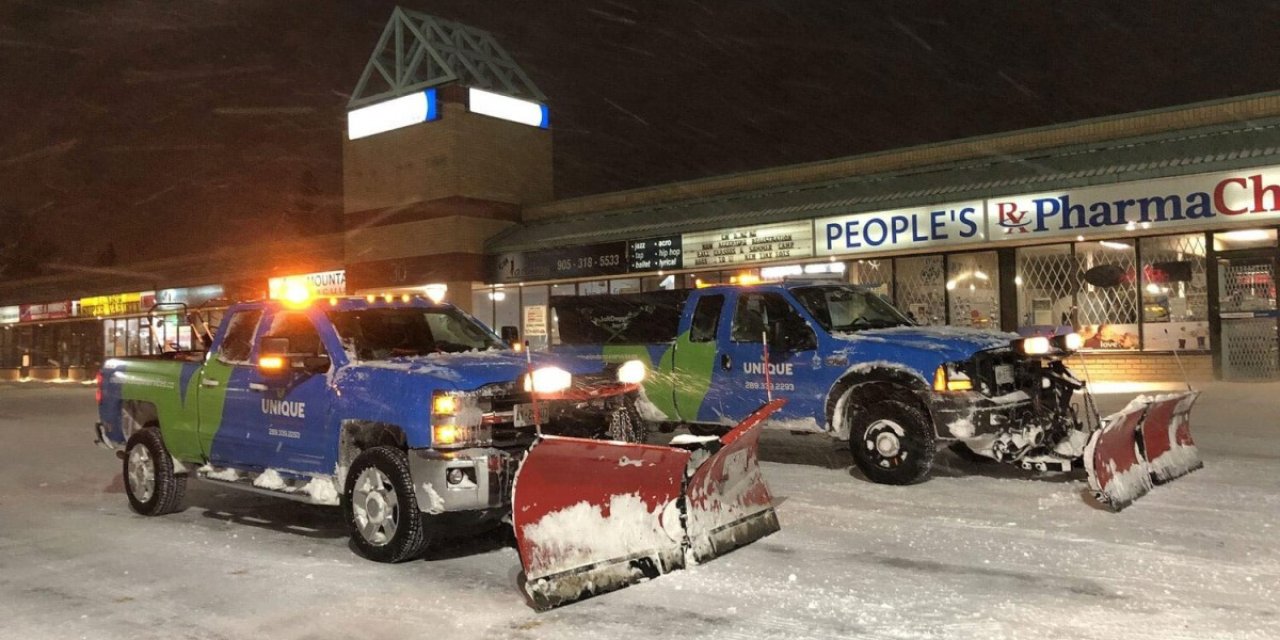 3. During the storm… 
Consider the size of your property and the amount and type of equipment needed to successfully clear your space. For instance you wouldn't want to clear a large parking lot with only one shovel.
You also have to plan how you will battle the storm. If it snows overnight will you be out there shoveling by 4am to make sure your customers and employees are safe to come to work in the morning? Will you wait until a certain amount of snow has fallen before you start clearing, or will you wait until the storm is over? These are important questions to ask yourself to make sure you're prepared when the snowstorm hits. 
At Unique Landscape Services we plan to go out when 2 inches of snow has fallen. When arriving at a property we immediately start clearing the priority zones and have a large fleet of equipment needed to effectively clear the property. Our walk crews use shovels, snow blowers, and skid steers. Our plow crew uses larger equipment like tractors and snow plows to clear large driveways. 
We work tirelessly to ensure your property is safe to use after a snowstorm. All of our equipment is no older than 2 years and we constantly keep up to date on current technology, so you can be rest assured your property is in good hands.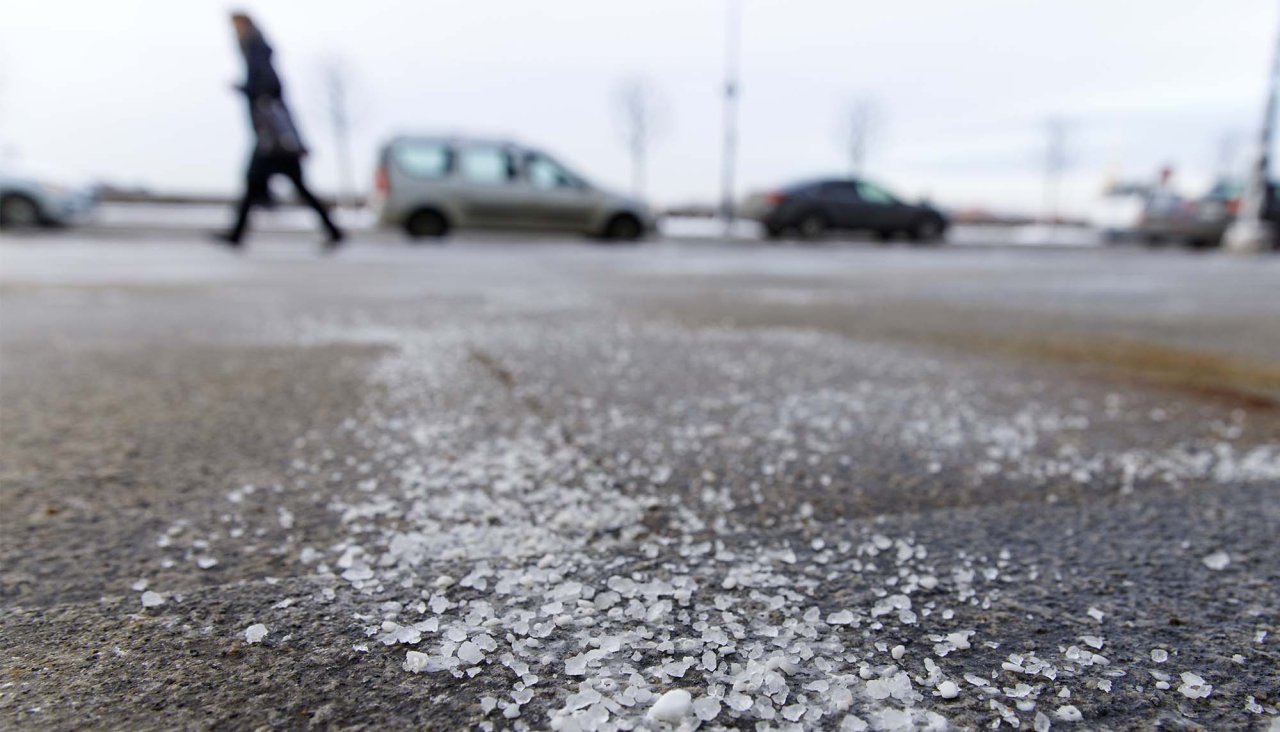 4. A step ahead…
Ice can be dangerous for more than just the obvious reason. Using regular road salt to melt ice can be harmful to your driveways, walkways, animals and the environment. But there are effective alternatives to the hefty bags you get at the store. 
Safety is our top priority. We care about the safety of our clients, their customers and employees and their landscapes. We use a specially treated salt for walkways and driveways to protect concrete and interlocking pavers from damage caused by harsh salts and chemicals. When compared to regular road salt, our treated salt has many other benefits too: 
Gentler on hardscapes — This salt is specifically designed to not degrade or erode concrete overtime. 

Safer around animals — Treated salt is the safer option to use if you have a lot of animals that come to your business.

Better for the environment — Our treated salt has less chemicals than regular road salt so it won't burn grass or slowly erode concrete. 
Protect your business from winter weather
Our Canadian winters are long and snowy…be prepared before the first snowflake falls with a snow and ice management contract from Unique Landscape Services. We're prepared to weather any storm, are you? Be winter ready, contact us today.
*We have a hard deadline of October 1st for clients to sign up for our services so that we can prepare our equipment and materials for the upcoming season.